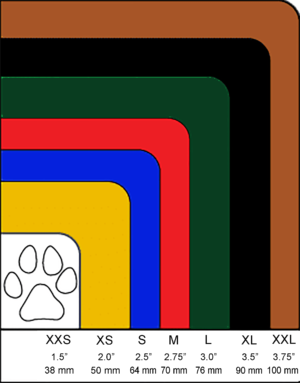 To get the right size bootie for your dog, measure the widest part of their paw while they are standing on the ground.
You can print off our sizing chart and simply place their paw on the cart to find the corresponding size.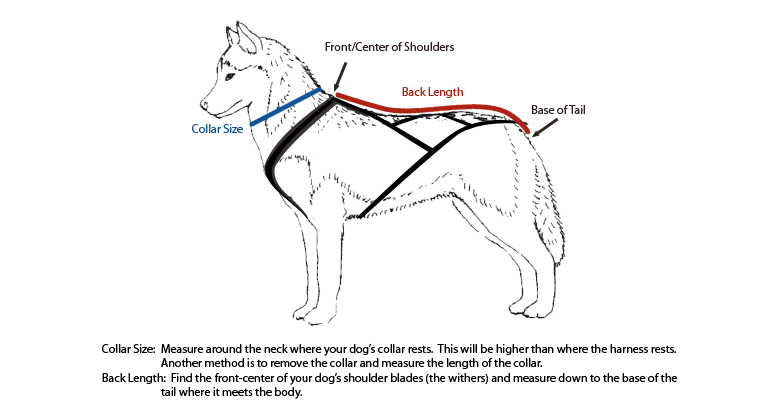 Collar Size:
Measure around the neck where your dog's collar rests.  This will be higher than where the harness will lay.
Another method is to remove the collar and measure the length of the collar by unclipping it, or twice the length of the collar folded in half.
Back Length:
Find the vertebra in between the point of your dog's shoulder blades (the withers) and measure down to the base of the tail where it meets the body (tail set).
SIZE

Tug Loop Color Code

Wt. of Dog (lbs)

Dogs Actual Collar Size

Back Length

Pup

1 Yellow / 1 White

25-30

13 1/4″

19″

Small

2 Blue

35-40

14 1/2″

21″

Small Long

1 Blue

/

1 Red

40-45

14 1/2″

22″

Medium

2 Red

40-45

16″

22″

Medium Long

1 Red

/

1 Green

46-52

16″

23 1/2″

Medium X-Long

1 Red

/ 1 Black

46-52

16″

24 1/2″

Large

2 Green

46-52

17″

23 1/2″

Large Long

1 Green

/

1 Black

52-58

17″

24 1/2″

Large X-Long

1 Green

/

1 Orange

58-65

17″

25 1/2″

X-Large

2 Black

58-65

18″

25 1/2″

XLN

2 Yellow

60-70

20 1/2″

25 1/2″

XL-XN

1 Yellow

/

1

Orange

70-80

22″

26 1/4″

XL-XLong

1 Orange / 1 Black

70-80

18″

28″

XXL

2 Orange

75-85

18 1/2″

28″

XXN

2 White

85-100

21″

29″

XXX

1 Blue

/ 1 White

100-120

22 1/2″

30″

XXXN

1 Red

/ 1 White

120-135

23 1/4″

33″

(These are estimated weights for each size.
Dogs and weights will vary by breed.)

The Kondos X-Back Harness Design